Self-adhesive labels in logistics - how to efficiently mark goods and speed up the implementation of warehouse processes.
The modern warehouse is an area that cannot operate without the support of appropriate information systems. In low-complexity warehouses, a system for recording events, combined with elements for marking goods and packages with shipping labels, may be sufficient tools. However, already the average level of complexity of warehouse logistics processes makes the event recording system insufficient. In such a situation, a WMS (warehouse management system) class computerized warehouse management system comes to the rescue.
This system bases its operation on the use of barcode technology. Barcodes require the existence of a medium on which they are fixed in order to function. These are self-adhesive labels on which bar codes are printed using specialized label printers.
HKK Group has been producing self-adhesive labels used in the logistics sector for nearly three decades . In this article we will talk about what kind of self-adhesive labels are particularly suitable for this industry.
Self-adhesive labels for marking goods entering the warehouse
The initial element of the warehousing process, is the process of receiving goods into the warehouse. Its importance is crucial for the subsequent tracking of goods in the storage space. It is at this stage that the so-called commodity registration, that is, the individual number with which each smallest batch of goods is marked, is generated.
The registration label is printed using a self-adhesive label printer, and the data comes directly from theWMS. The information system integrates various hardware infrastructure elements of the automatic identification area, which, in addition to label printers, include data collectors or barcode readers.
Due to the fact that the registration label is temporary – it is used only for the time a particular batch of goods stays in the warehouse, it is best to use thermal self-adhesive labels for their printing. Thermal labels have less resistance to damage, their lifespan is not long, but the cost of printing them is relatively low. (When printing such a self-adhesive label, we do not use tape/transfer paper).
Of course, in the situation of outdoor storage, or materials that are stored in the warehouse for a long time, it is better to use labels printed by transfer method. These can be either paper labels or foil labels, which show the greatest resistance to external conditions.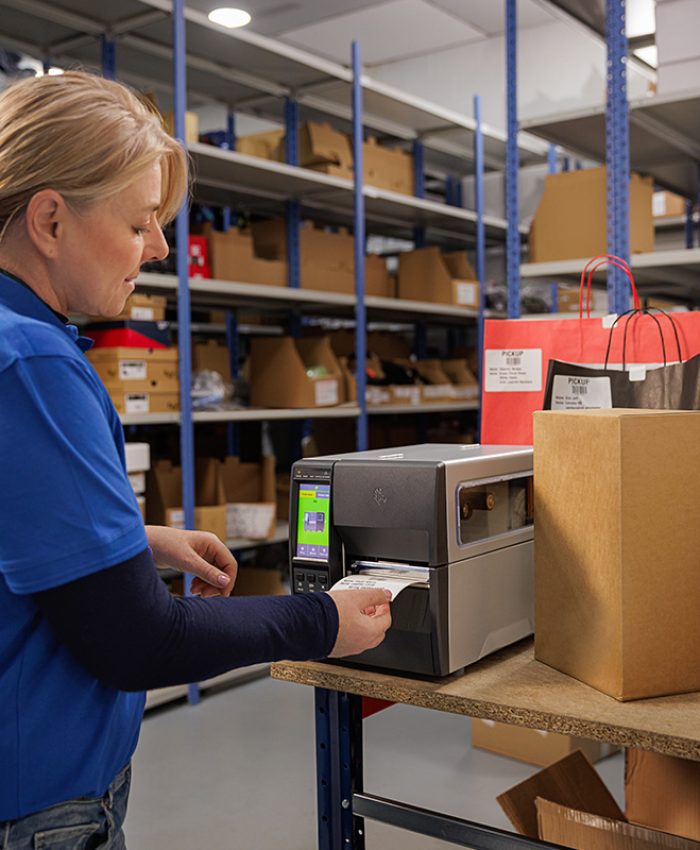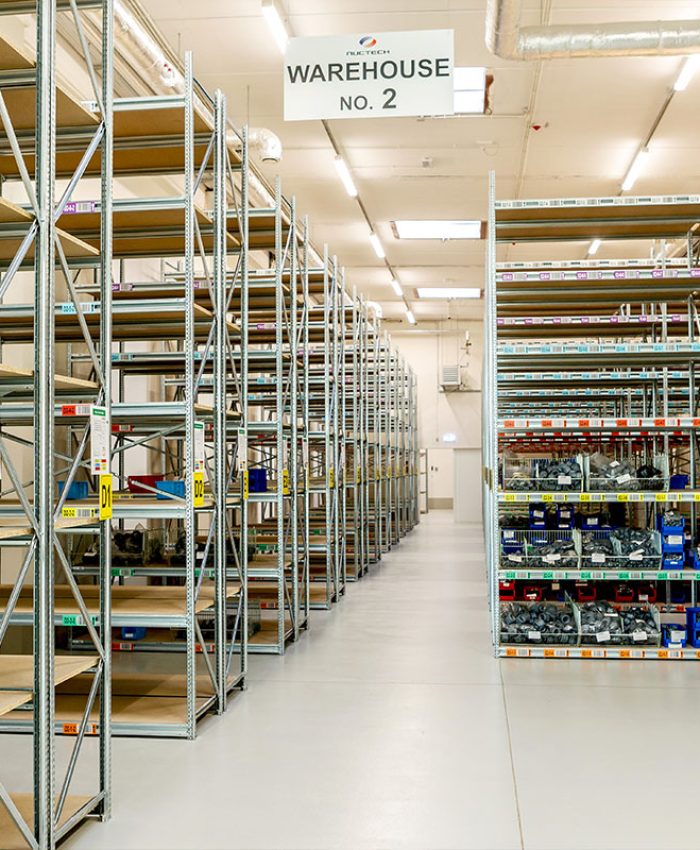 Storage process - self-adhesive label for shelf marking - warehouse labeling
Another warehouse process in which self-adhesive labels play a huge role is the process of storing goods. As part of this process, the WMS decides on the allocation of storage space for a given commodity (the space allocation process uses algorithms designed to optimize the use of storage space).
In order to ensure that the activities prescribed by the WMS are carried out properly, operators in the warehouse should confirm that a specific commodity (accompanied by a registration label) has been put away at a specific storage location (usually a specific part of the warehouse rack). Quickly finding the storage location is possible, thanks to the use of self-adhesive labels for marking high storage racks.
Labels of this type are produced from raw materials provided with very strong adhesives, the strength of which is activated as soon as they are applied to the surface of the rack. The printing of such a label itself is done using printing machines working with digital technology, more specifically UV inkjet machines. In order to further protect the print from physical damage, it is possible to laminate them. This design of the self-adhesive label makes it almost indestructible.
Shipping goods to the customer - pallet label/courier label
The third stage of the logistics process using labels is the stage of shipping the completed goods to the customer. The shipment itself regardless of the form (it can be a parcel shipment, but it can also be a full-pallet shipment), must be marked according to the standard of the specific carrier or courier. Such marking is printed on an adhesive label.
Similar to the registration labels,
shipping label
can be made on thermal paper, transfer-printable paper, or film. The choice of material depends on the time the shipment will be delivered to the customer and the form of transportation. Local shipments can use relatively simplest and cheapest materials, but air and especially sea shipments need to use transfer labels, preferably foil labels.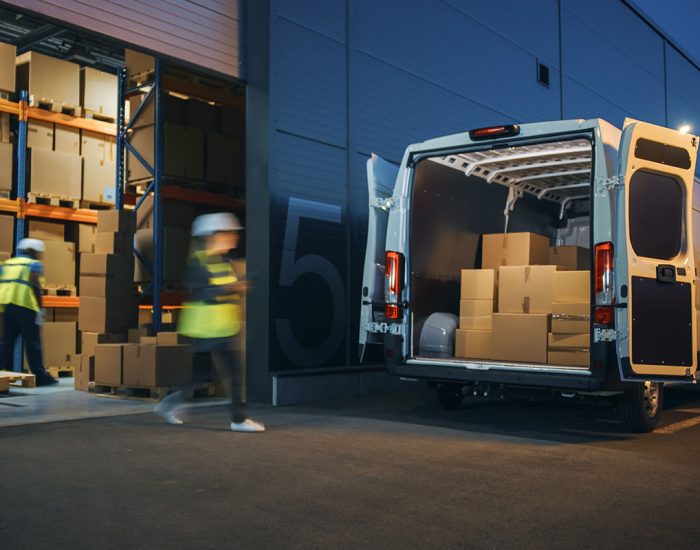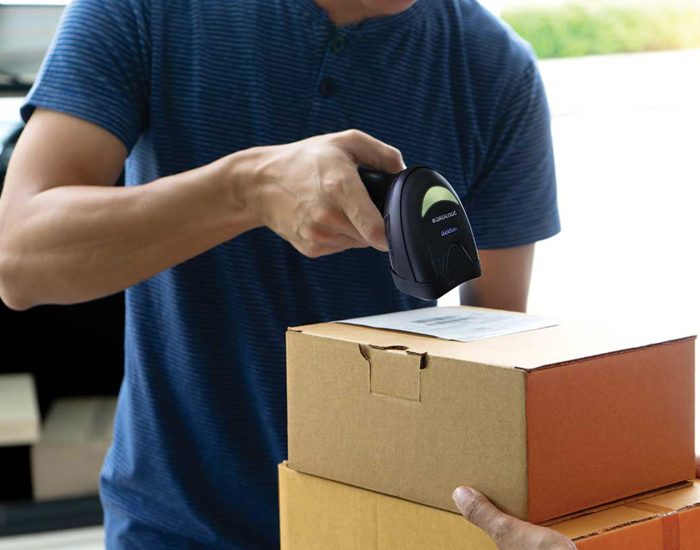 Return process especially important for e-commerce industry
Modern logistics, especially e-commerce logistics, must face the challenges of handling returns. This is an issue that requires advanced system configuration, and when reaching a certain scale of operation, it should be supported by appropriate self-adhesive labels.
These labels are personalized with an individual number and barcode. They are used to quickly identify the return and facilitate its analysis, which often ends with the release of the returned goods for resale. Return handling labels usually take the form of self-adhesive labels produced from paper, and the individual number is printed on digital machines.
HKK Group - printer of self-adhesive labels and warehouse markings
Our company has been printing self-adhesive labels on a wide variety of materials for thirty years. In our daily work, we use modern printing machines in analog technology (flexo technology) and digital technology (UV inkjet technology).
Our self-adhesive labels can also be refined in a variety of ways (gilding, embossed elements, gouging). Our clients include hundreds of organizations from Poland and other European countries.