The idea is to give an individual number to each location where the goods can be stored. This number is most often expressed in the form of a barcode. Due to the necessity of reading automation, which is enabled by the WMS system – its operation is supported by automatic data identification technologies with barcodes at the forefront. Alternatively, it can be a 2D or RFID code reading.
Storage rack as the main element for storage in a warehouse.
In the reality of daily warehouse operations, the main element used to store goods is the high-bay rack. Such a rack has many individual places where goods can be stored. In the case of a warehouse where there is a lack of control at the location level, storage takes place in a rather chaotic manner. The result can be a situation in which we are unable to keep an eye on the putting away of goods, in a strictly designated place.
The situation is different when the work of the warehouse is supported by a warehouse management system. The system shows the operator the exact storage location, and it is possible to find it by marking each rack location. Such locations are marked with rack labels in the form of labels applied to the rack, or magnetic labels that are applied to the rack and can be freely removed.
In the case of specific racks, where it is not possible to stick or apply self-adhesive or magnetic labels, it is possible to use special strips in which labels will be placed.
Making it easier to navigate the storage space - collection labels, pinnacles, information boards.
In addition to identifying a specific storage area in the process of labeling the storage space, it is also worthwhile to ensure the overall orientation of the distribution center.
We can achieve this by using a whole palette of informational signage to make it easier to find a particular storage area. Collective racking labels can also be used, giving you a quick overview of the entire racking block without having to look at each place individually.
It is also a good idea to use a well-thought-out visual identity, where a specific color of the label will correspond to a specific level of storage.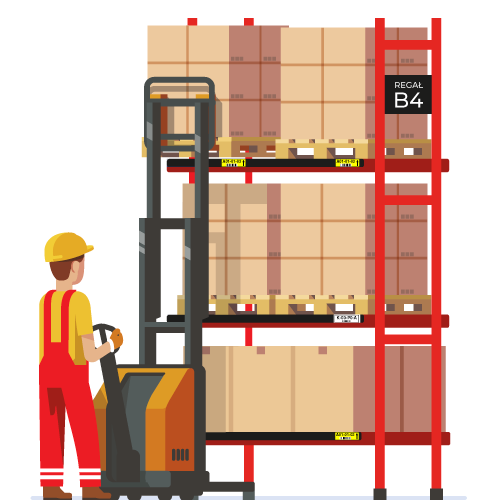 HKK Group - Your signage printer for logistics space identification.
We have a complete machine park, consisting of digital machines for large-format production and digital cutting and milling machines. Thus, we have the ability to supply stock markings in any form and quantity. Our offer is also complemented by services for the installation of warehouse markings. For rack marking we are prepared like few others. We have the knowledge, production capabilities and extensive experience supported by numerous references.