Warehouses managed by information systems, are becoming a standard in modern business. In an era of increasing importance of omni-channel commerce, i.e. one in which retail chains tend to combine traditional stores with online stores, there is no shortage of organizations focusing exclusively on e-commerce.
Only an IT system of the WMS (warehouse management system) class will ensure efficient and error-free execution of orders.In this article, we will tell you what benefits the use of a WMS system gives in the area of order picking and what picking strategies are supported by our proprietary HKK WMS system.
Goods picking - one of the most important processes in modern warehouse management.
Goods picking, is the process of gathering the items of a customer's order in a warehouse, by the operators working there. For simple orders and smaller warehouses, picking is traditionally done using uncomplicated tools.
Complex warehouse operations require the support of an appropriate information system. One of the primary ways to support picking, is to streamline it by using barcode technology. This is what the WMS system is based on. With proper warehouse labeling, codes automate the identification of goods in a specific warehouse zone.
Another way to speed up picking, especially of smaller goods, is to assist the process with voice picking technology. The operation of the voice system in the warehouse is very intuitive. The system communicates with the user by reading messages that are received by individual headsets.
The communicated task is performed by the operator, and confirmation of its completion is communicated back to the system via verbal transmission. The voice communication system is only an intermediary between the operator and the WMS. It is the warehouse management system that assigns tasks and controls inventories once they are completed.
In addition to the technological improvements outlined above, we can also influence the face of warehouse picking by imposing a strategic transformation in this particular area. The next part of the article will treat this.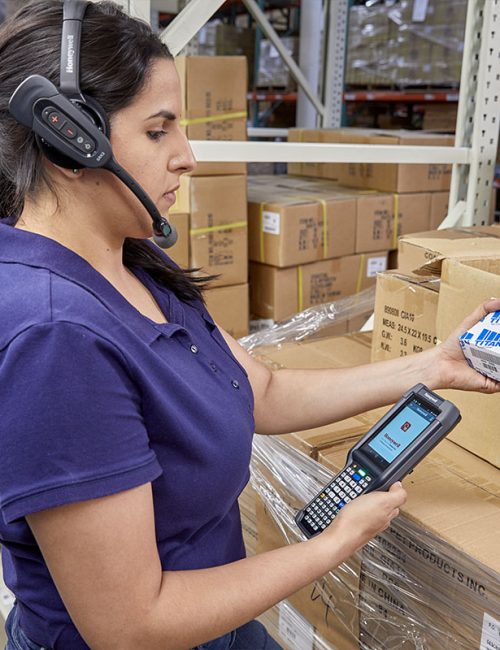 Diverse picking strategies - a way to profoundly change warehouse operations.
Below are the most interesting picking strategies that are supported by the WMS systems offered by HKK Group (Blue Yonder WMS and HKK WMS). This list is not a closed list, there are significantly more picking methods possible to configure in our WMS systems.
Multi Order Picking, is a picking strategy particularly suitable for warehouses that primarily process orders consisting of one or more lines. Each line should contain individual items of products. A warehouse that meets the indicated criteria, for example, can be an e-commerce warehouse. Operators are directed to warehouse zones from which they pick several or even a dozen orders simultaneously.
The picking itself takes place with the help of special picking carts, into which the picked products are deposited (the cart is divided into zones that correspond to one order). Once picking is complete, orders are transferred to the consolidation and repacking area, and then shipped to customers.
Zone picking is great for large warehouses that can be divided into zones. Employees operating in a zone, receive picking orders for goods that are stored in that zone. After completion, partially completed orders are transferred to the next zones to complete the process started.
The WMS manages the organization of picking, taking into account many predefined factors, such as the weights of products to be picked, expiration dates and many others.
Batch picking – group picking: in this model, the WMS groups the customer's orders according to the references ordered. Such groups of orders are forwarded to the appropriate number of operators. Each is responsible for picking a specific SKU. The orders, which are completed within the order groups, are transferred to the consolidation and packaging zones, where further preparation for shipment takes place.
Wave picking – wave picking: will find application in smaller warehouses where space availability may be an issue. The WMS, in the implementation of this particular picking method, groups customer orders by assigning them to the so-called "picking" method. wave, or the time window in which it will be implemented. Operators complete one order after another, but within a tightly scheduled time window.
HKK Group - your expert in the field of logistics process organization.
HKK Group (historically HIT-Kody Kreskowe), is an expert dealing with logistics processes for more than 30 years.
A group of logistics consultants supports clients in Poland and abroad in the implementation of WMS systems, organization of warehouse space(warehouse labeling) and in the supply of equipment needed for the informatization of logistics(label printers, data collectors, barcode readers).